Cremation Memorials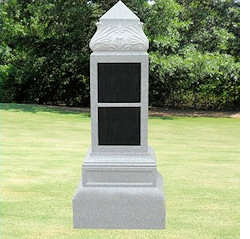 Memorial Monuments offers a wide variety of cremation memorials to fit your individual needs as well as most budgets. You may choose a standard flat granite marker that will accommodate your loved ones remains or a traditional bronze over granite memorial that is fitted with cremation repositories. We offer a wide selection of columbaria for both personal and community use. In addition we offer a wide variety of granite cremation benches. For the nature lover we offer the cremation boulder, a natural stone cored to accept up to 2 cremation repositories.
Cremation gravestones, cremation benches, cremation columbaria,(columbarium with niches), cremation boulders or cremation bronze over granite markers are any type of structure that is specifically designed to hold one or more cremation urns or receptacles for ashes. Some cremation monuments are hollow and have a panel that can be removed for cremation urn or receptacle placement. Some are solid and have areas cored out to accept the receptacle. Cremation monuments come in many shapes and sizes.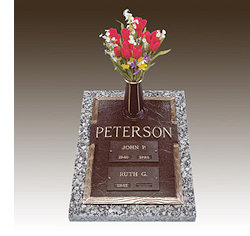 We provide single grass-level markers, companion grass-level markers, single bevel markers, companion bevel markers, single slant monuments, companion slant monuments, single upright monuments and companion upright monuments, memorial benches and cremation benches, all of which may be customized with emblems, etchings, porcelain photos and epitaphs. We provide emblems and designs that depict your loved ones hobbies, civic and/or  fraternal activities and religious beliefs including, but naturally not limited to, Catholic, Jewish, Christian, Buddhists, Baha'i and Muslim faith designs and images.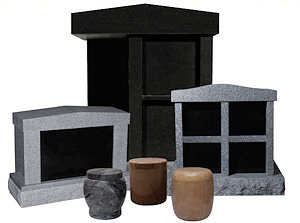 We have a full range of granite colors available such as Georgia Gray, Dakota Mahogany, Canadian Mahogany, Indian Mahogany, China Black, African Black, American Black, India Black, India Red, Missouri Red, Mountain Red, Autumn Rose, Morning Rose, Desert Rose, Blue Pearl, Emerald Pearl, Royal Emerald, and many more. We offer bronze vases, granite vases, marble vases, marble statuary, bronze statuary, granite statuary, porcelain photos, hand etched inserts and much more.
Memorial Monuments is a proud member of the Southern Monument Builders Association, Texas Cemeteries Association and the Monument Builders of North America.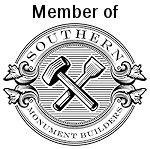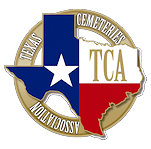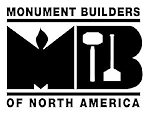 Memorial Monuments offers cemetery headstones, monuments, tombstones, memorials, bronze cemetery grave markers, granite cemetery grave markers, bronze vases, granite vases, serving Fort Worth, Arlington and all of Tarrant County, Texas. Call 1-800-235-4573